Dog, who went missing after fatal crash in New Mexico a year ago, will be reunited with Clio family
by Jenny Suniga
Posted: 08.10.2011
CLIO, MI -- A dog, who went missing over a year ago after a fatal car crash in New Mexico, has been miraculously found and is heading back to his family in Clio.
The Quay County Sun reports the Benson family was traveling in Tucumcari, NM in June of 2010, when their minivan overturned on the highway.
Monica Benson told NBC25 she was driving the mini-van when Ceasar, the family dog moved down to her feet. She says she looked down and tried to move the Maltese dog out of the way and when she looked up she noticed she was veering off the road. Monica says she over corrected and that's when the van flipped over.
"Four of my family members were actually laying on the freeway. Benjamin was by my husband," said Monica.
Monica's husband Greg and daughter Emily died from the impact, and 18-month-old Benjamin was placed in intensive care. Miraculously Monica's three other children had only minor injuries.
In the midst of the chaos, no one noticed that Caesar had run away from the scene. For weeks after the accident Monica and her kids had hoped Ceasar would be found.
Miraculously, a member of the Tucumcari Animal Rescue Group found the missing family pet just this month. The dog had a microchip, and the rescue worker was able to trace it back to the family in Clio, Michigan. After some investigating, she was able to find the family's contact information.
We tested out a similar microchip Wednesday at Fohey Veterinary Clinic in Clio.
Now, over a year later, Caesar's on his way home. The Associated Press reports he left Tucumcari Tuesday.
Monica says she's heard that people have volunteer to help Ceasar get home. She doesn't know all the detail except that he is actually being flown in.
Monica says Ceasar's miraculous return feels like a message from above.
"I feel like Gary and Emily are saying 'we're okay now you guys can be okay.'"
Ceasar is expected to arrive in Michigan on Saturday.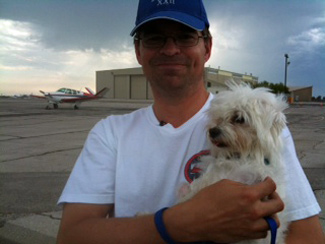 Caesar with Olathe pilot Nathan Larson who flew him from Oklahoma City to Gardner, KS
Source: http://www.connectmidmichigan.com/news/story.aspx?id=650113
Printer-friendly version
here
Just a little more info in this article: http://today.msnbc.msn.com/id/44096046
Follow-up video after Caesar started his journey: http://www.kctv5.com/story/15259932/dog-thought-to-be-lost-makes?autoStart=true&topVideoCatNo=default&clipId=6149521